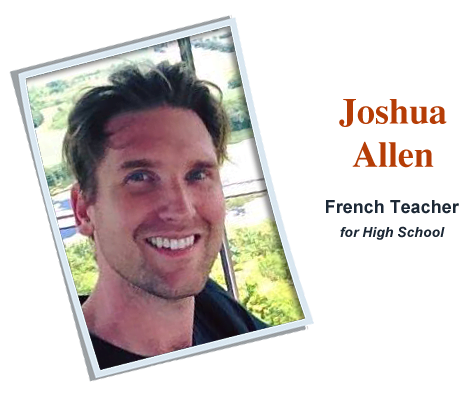 Bonjour!
My name is Joshua Allen, and I am excited to be teaching High School French with International Virtual Learning Academy. I am a foreign language enthusiast with fluency in French, Spanish and Malay. I also love to travel and have lived in such places as France, New Zealand, and Malaysia.
My B.A. in French (minor in Spanish) from Gordon College has served me well. I have taught French on the community college level, worked as a French translator for a software company, served as medical secretary to Spanish-speaking clients and, most recently, taught Spanish at an international high school for the past four years.
When offered the opportunity to teach French again, I was thrilled since I have always had an affinity for the language of my French-Canadian ancestors.
I am truly looking forward to teaching French with IVLA because it is one of my passions, and I hope to spread that excitement for language learning to my students.
Education/ Degree
B.A. French, May 2009, Gordon College
Licenses/Certification
ACSI Teacher Certification Education and English for Speakers of Other Languages
Teaches IVLA Class(es)
High School French