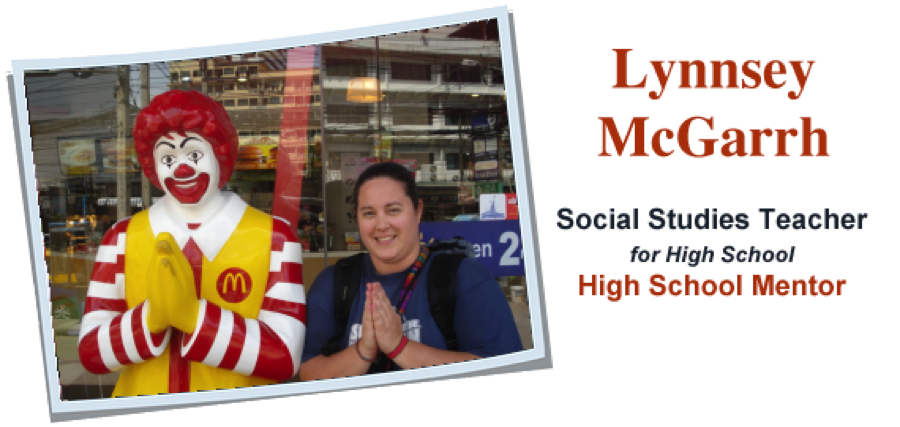 Photo: Stopping for lunch at McDonalds in Pattaya, Thailand.
Hi, my name is Lynnsey McGarrh.  At IVLA, I currently teach Social Studies and Spanish.  I am also excited to have the opportunity to be a Mentor in our school's new Mentor Program.
Though I now call Lexington, Kentucky home, I was born and raised in Henderson; a small town in western Kentucky located along the Ohio River. In 2006, I graduated from Murray State University with my Bachelor's Degree in History and International Affairs. In 2007, I joined the United States Peace Corps. For two years, I lived and worked in Quito, Ecuador as a volunteer. It was an experience that will stay with me forever and helped to motivate me to return to the United States and become a teacher. In 2012, I graduated from Saint Joseph's University with my Master's degree in Secondary Education. I currently hold a teaching license in both Pennsylvania and Kentucky.
In my free time, I love to travel. I love to experience new cultures, different types of food, and meet all types of people from all walks of life.
Lynnsey McGarrh
Education/Date of Degree:
Bachelors in History earned in May, 2006
Licenses/Certifications:
Masters of Secondary Education earned May 2012
Certified 5-12 grade social studies in the state of Kentucky and
7-12 grade social studies in state of Pennsylvania
Teaches IVLA Class(es):
US history, World History, Government, Economics, and Multicultural Studies
Other IVLA Responsibilities:
Mentor