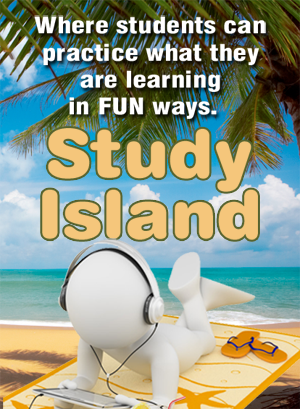 The sand beneath your feet, the wind in your hair…
Whether a lush and tropical or completely deserted, we all crave an island experience from time to time! Here's an island created just for students!
Study Island is a place where students can practice what they are learning in engaging (fun!) ways. It is designed to help students Grades K-12 master content and improve skills in core subject areas. Study Island's high impact, high value learning programs provide quality academic support, practice, and real-time assessment data. There is immediate feedback and extra help and practice when the student needs it.
Study Island is ideal for either self-paced, individualized learning or parent-directed learning. Students can work through questions using a standard test format, an interactive game format, or printable worksheets.
What It Is
Standards mastery and test preparation program built specifically from state and Common Core standards
Interactive lessons and activities that reinforce and reward learning achievement
Real-time progress monitoring that identifies student strengths and weaknesses
Why It Works
Automatic feedback and remediation raises individual student achievement
Built-in lessons, animations, and activities keep students engaged in their learning
Self-pace, individualized learning ensures mastery of content and skills