As COVID-19 has turned our world upside down, homeschooling has been thrust into the global spotlight.
According to a recent Forbes article, its estimated that 300 million children worldwide are now being homeschooled. Covid-19's impact on the education industry has been so severe that the United Nations recently stated that "the global scale and speed of current educational disruption is unparalleled and, if prolonged, could threaten the right to education." Whether you're a parent or a student, there's no denying that the coronavirus pandemic has changed our lives in ways that were unimaginable just a few months ago.
What is Homeschooling and How Long Has it Been Around?
Wikipedia defines homeschooling as "the education of children at home or a variety of places other than school. Homeschooling (home education) is usually conducted by a parent, tutor, or an online teacher." Note that "homeschooling" is the term generally used in North America while "home education" is commonly used in the United Kingdom and Europe. In this article, we're referring to any form of home education (whether an online school or traditional homeschool) as "homeschooling."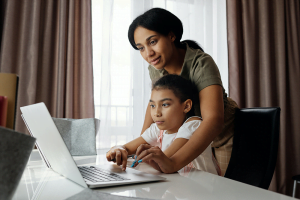 Homeschooling gained popularity in the 1970s as part of a broader movement toward educational reform. The homeschooling movement was championed by John Holt, who was nicknamed the "father of homeschooling." In 1976, Mr. Holt published "Instead of Education; Ways to Help People Do Things Better", which called for a "Children's Underground Railroad" to help children escape compulsory schooling.
Mr. Holt would go on to say the following about homeschooling: "I want to make it clear that I don't see homeschooling as some kind of answer to badness of schools. I think that the home is the proper base for the exploration of the world which we call learning or education. Home would be the best base no matter how good the schools were."
Quick Facts about Homeschool
For those new to the homeschooling scene, here are some of the basics of homeschooling your children:
Homeschooling is legal in all 50 US states and many foreign countries.
Parents are not required to have an education degree and/or teaching credentials.
Laws about homeschool vary by state, so you should always check your state and local laws and regulations before you start homeschooling your children.
There is no "standard" way to homeschool. Homeschooling offers tremendous flexibility to both the parent and child.
Homeschooling has gone digital. While traditional printed content is still used by some homeschoolers, a growing segment of homeschooling families now use online curriculum.
Schooling from home does not have to be expensive. Basic costs include the learning materials/curriculum, pens, pencils, notebooks, etc.
Some states require standardized testing as part of a child's homeschool education program. Again, be sure to check your state and local homeschooling laws and regulations.
Many states/regions have extensive homeschool support and social networks. These resources include homeschool co-ops, support groups for parents, sporting events, and various student clubs and groups.
Will Homeschooling Change the Way We Learn?
According to a recent article posted on the World Economic Forum ("WEF") website, many education experts believe that the use of homeschooling due to the COVID-19 pandemic will forever change how children are taught.
The WEF article states that an estimated one billion children worldwide have had their education disrupted due to the coronavirus pandemic. Thankfully, digital technologies have allowed many of these children to continue learning while traditional schools are shut down. Teachers and students have been using technologies such as Zoom and Skype to transition the learning process out of the classroom and into the home. France has gone so far as to create "Ma classe à la maison" (my classroom at home), which is a virtual classroom that can be accessed anytime and from any location via a laptop or smartphone. Meanwhile, private sector companies in Japan have been offering free online courses that can be accessed through a government digital platform.
Tracey Burns, of the Organisation for Economic Co-operation and Development (OECD), says "It is particularly inspiring to see entirely new ways of working emerging, ones that go beyond simply replacing physical schools with digital analogues." Andreas Schleicher, Director of Education and Skills at the OECD, sees the current COVID-19 crisis as an opportunity to rethink how we organize education. Mr. Schleicher believes that schools and teachers should no longer be seen as "knowledge delivery systems" and that they should be encouraged to take ownership of not just what they teach but how they go about teaching it.
According to results from the OECD's global teaching survey TALIS, teachers from around the world believe that a shortage of digital technology in the classroom has been hindering learning. Furthermore, the survey shows that barely half of all teachers were able to let their students use computers for projects or classwork.
Summing it all up, it appears that the coronavirus pandemic has forced students, parents, and teachers worldwide to see how homeschooling can forever change the world of education.