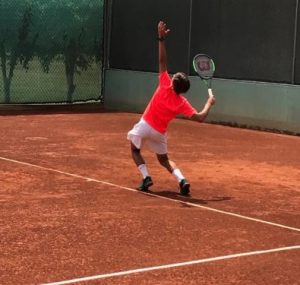 What does a typical day look like for you?
- Usually, a typical weekday for me starts by waking up at about 7:30 am, take breakfast, and begin studying between 2 and 21⁄2 hours. Then I need to go to my Tennis practice from 11 am to 12:00 am. I come back to my house to take lunch and study again for about 11⁄2 hours. Then I return to my tennis practice at 4:00 pm until 7:30 pm where it ends.
Are you involved in any sports or other non-school activities?
- Yes, I play competitive tennis, I train about 5 hours a day if not more on some occasions.
How did you find out about IVLA and why did you decide on an education
with IVLA?
- When I decided to drop out of school and do homeschool to dedicate more time to my tennis career, my father and I began doing a lot of research in the web, we looked into many schools that appeared in the Top 50 Best Online High School Diplomas. IVLA was one of the online schools ranked in the top 50. We looked into every school, and saw their system of online educations, their price, the courses they had, reviews on every school etc... After reviewing all online schools, IVLA turned out to be our best option.
What are your goals for the future?
- My goals for the future are to graduate from IVLA with an honors diploma, get a full scholarship in a university to play for the tennis team. Get high grades and do well in the tennis competitions and graduate with an honors diploma from the University. After graduating from University I might try for 1 year or 2 to play professional tennis and see if I am at the level to compete  professionally. If professional tennis doesn ́t seem to go the right way I will use my college degree to start working.
What's your favorite thing about online education?
- What I like most about Online education is the timeline flexibility. With my tennis training and the may tournaments I play, I sometimes don't have enough time to study, but thanks to the flexibility of online school, I can fall behind some assignments and after the tournament or during the weekends I can catch up with the assignments I didn't do before.
Please tell us three (3) interesting facts about life in Peru.
- Peru is a very nice country with many historical attractions like Machu Pichu and many other Inca historical attraction which are really amazing.
- Peru has al three regions, Coast, Mountains, and Jungle, Famous beaches on the coast like Mancora. The mountains have the Andes which is one of the largest range of mountains in the world. The Jungle has the Amazon river and many beautiful sites.
- Peru is known as the country with the best gastronomy in the world, the food is so delicious that people from all around the world come to Peru just to try the traditional plates. Peru has won the award of "Best Culinary Destination in The World" for 7 consecutive years.