We are proud to announce the winner of our Second Annual Middle School Poetry Contest! Students were invited to submit one original poem of their choosing and encouraged to be creative. We received many outstanding entries from our imaginative and clever students.
We are proud to announce that our 1st Place winner is Maxim V.! Maxim is 14 years old and living in Dubai. His mom and dad are his biggest fans! Maxim's mother, who writes novels and poems, encourages him to pursue writing and other creative outlets. Together, they have started composing music as well. Maxim plays the piano, drums, and violin, and is hoping to get a trumpet or saxophone this year for Christmas.
In addition to their creative pursuits, Maxim and his family also rescue animals together. They currently have five cats and one dog. His winning poem, below, is about one of his cats named Rick.
Congratulations, Maxim!
Subtle lighting, enclosed space
Morning sun sets to race
I see no sun from where I am
But close enough to feel your aim.
Door creaks open, here we are
Figure creeps through my door, Morningstar
I am quiet, no sound near
I will wait to shock in fear
Head peeks over, this is it
My chance to shine, my chance to snip
My fluffy head rises from the pile
And
With my loudest scariest Miaou
Good morning Huuman, it's me
I have been waiting for you in our washing machine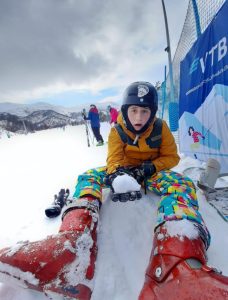 1st Place Winner, Maxim V.
Meet 17-year-old basketball superstar and IVLA 10th grader, Lili Krasovec. Lili's dream is to become a professional basketball player! She currently plays for the national women's basketball team in her home country of Hungary, and has even played in the World Championships. Lili moved to Rome, Italy last year to further her skills in the sport and credits IVLA and her Success Coach, Matt, with helping her succeed both in school and on the court. Once she graduates from IVLA, she wants to move to the United States to go to college and play on their basketball team. She'll then pursue her dream of becoming a pro! We can't wait to watch you achieve all of your goals, Lili!
Read Transcript:
We are thrilled to congratulate former IVLA student, Leylah Fernandez, on her impressive victories at the 2021 U.S. Open! Leylah defeated defending champion Naomi Osaka at the U.S. Open, 5-7, 7-6, 6-4 in the third round. She then went on to defeat former world No. 1, Angelique Kerber, 4-6, 7-6, 6-2 in the fourth round. This win propelled her to achieve her maiden Grand Slam quarterfinal on the eve of her 19th birthday. Talk about not one, but two huge wins!
Leylah made her professional debut in 2019 at the Gatineau Challenger where she won the singles tennis title. That same day, she won her first professional doubles title alongside teammate Rebecca Marino. Also in 2019, she became a Junior Grand Slam champion at the French Open. Her father, Jorge, has been her coach for many years, despite never having played tennis himself. She was dropped from a development program due to her small stature, and Jorge stepped in to help her flourish and grow into the incredible athlete that she is today. Together, they have raised her profile to be one of the most talented young athletes in the sport, and one to watch.
During her time at International Virtual Learning Academy, Leylah was ranked the No. 1 junior tennis player in the world. After graduating in 2020, she went on to compete in the 2020 Tokyo Olympics as part of Team Canada. We cannot wait to see what else this rising star accomplishes! We are cheering you on and are so proud of you, Leylah!
View this post on Instagram
IVLA student Dillan McDonough has been calling the greater United States his home for the better part of 2021. Originally from South Carolina, he has been traveling the country with his parents and dog, Buddy, since April of this year. They purchased a beautiful brand-new Airstream, loaded up their belongings, and have hit the road for the past four months! Dillan likens living in an Airstream to living in a tiny 300 square foot apartment. There are beds, a small kitchen area, and a dinette that doubles as a place to have meals and work. They also have an office area with a built-in desk, chair, and cabinets. Although the bathroom is small, it has everything they need, including a nice shower. As he puts it, they have space for the things that matter most!
The entire family feels incredibly lucky they have been able to travel to so many different and unique regions of the country. Some of their favorite places include coastal Oregon for its rugged beauty, San Diego for its weather and beaches, North Dakota for the peaceful Devils Lake region and Michigan for the quiet beauty of the Upper Peninsula. Some of their favorite adventures so far include petting alligators on a Bayou boat ride in Louisiana, hiking the rough terrain near the California/Mexico border and exploring the beauty of Yellowstone's Ole Faithful and other geysers at sundown. Curious what the next big adventure is that they have their eyes set on? Alaska.
Their dog, Buddy, is a great travel companion. He doesn't mind long travel days and loves the smells of each new location. He enjoys going on walks, exploring new areas, and meeting new people. Many places, such as national parks, have trails where you can take your dog along with you. While Buddy is, undoubtedly, their favorite animal, they've spotted plenty of others along the way. They loved seeing the cute prairie dogs and the wild horses running freely at Theodore Roosevelt National Park in South Dakota. Yellowstone's bison and elk are fun to see but coming across black and brown bears is their favorite. They conjure the feeling of being scared and amazed at these fascinating creatures at the same time; that's quite an experience.
In between these big adventures, Dillan still manages to be in school! He does his schoolwork on his computer in the office of the Airstream or outside on his laptop depending on where they are. He manages his time to make sure that he has time to complete his schoolwork, no matter what. A typical day begins in the morning when they take Buddy for a walk, have breakfast, and then begin their work. He takes his classes and does his homework while his parents run their family business, YouTube channel "The Interview Room with Chris McDonough." In the afternoon they explore the area they're visiting, whether it's hiking or fishing or taking a tour. Since they live in a small space, they spend a lot of time outside. They cook outside as often as possible, and in the evenings love to sit around a campfire often playing guitar or chatting with folks they meet.
Dillan also helps with the family business by filming and editing for their YouTube channel. He makes sure that everything runs smoothly and accurately when his dad is working on solving a case. Although he's not interested in solving crimes himself, he is hoping to fly jets for the United States Air Force one day. That requires quite the adventurous spirit, and Dillan has plenty of it! We can't wait to follow along with the rest of his adventures in both the short and long term.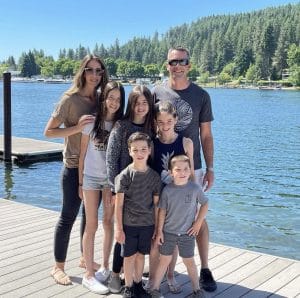 Starting at IVLA was a game changer for my family. When I got hired, I had recently had a baby who had some medical issues, and I needed to be home to care for her. This made it very difficult for me to return to my classroom teaching position. I found IVLA, and have felt at home ever since. IVLA was first starting up when I got hired. We had very few students, one curriculum option, and things were structured very differently. It certainly has grown over the years!! The number of states and countries continued to expand, only making my job more and more exciting. I love being able to learn about different countries, customs, and cultures around the world through the eyes of the families that I work with.
IVLA has provided opportunities to so many families, and it makes me proud to be a part of the IVLA community. I have had families throughout the years tell me how it has changed their lives. At their brick and mortar schools they didn't fit in, and IVLA has helped them soar to new heights, and that makes me incredibly happy to be a small part of their story. I truly enjoy being able to customize a plan and a program that suits each individual's needs. It is one of my favorite parts of IVLA, and I am passionate about finding the best fit for each of my students.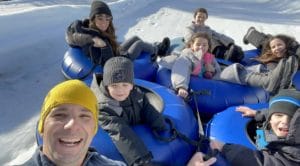 Another aspect of the online schooling community that I love is creating new programs, and pursuing new ideas that continue to help IVLA grow and become better every year. It has been really amazing to see how far the school has come over the years. I truly believe that is because the school is run, starting at the top, with leadership who really cares whole-heartedly about the families we serve. We are always striving to find ways to make the experience the best it can be for our students. I have been fortunate enough to be here at IVLA since the beginning, and have been able to watch the school evolve. We are always working on new ideas, and it is really exciting to be a part of such an innovative team.
I love being a part of IVLA because of the opportunity to help others, but I can't forget to mention how IVLA has helped me. It has allowed me the chance to continue working in education, while having the flexibility to be a stay at home mom to my own children. It is such a great balance because I get to still foster my love for teaching and helping students, but get to spend a lot of time with my family too.
IVLA is a great place to be, and I am excited to continue watching the school carry out its mission to help all students be the best they can be!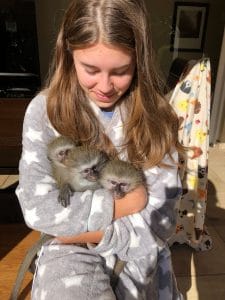 Riley Beyers, an IVLA student who lives in South Africa with her mother, Joeleen Beyers, a primatologist, has had quite an extraordinary life! Ten years ago, her mom received a call regarding a baby vervet monkey whose mom was shot and killed on a farm. They had heard through friends that her mom studied primatology in college and had worked with primates before. After taking in the monkey, more and more continued to come in. Her mother founded Monkey Matters in partnership with another woman rescuing primates. Together, Monkey Matters rescues orphaned, injured, or displaced South African primates, and offers educational programs about primates and conflict resolution between wild primates and humans to the public. The workshops are given to both communities and schools to help foster a harmonious relationship between human and non-human primates.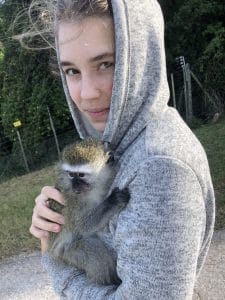 Because Monkey Matters is not a sanctuary, and they rehabilitate the monkeys in their home, Riley gets to spend time with the monkeys every time they have one! The length of time that the monkeys stay with them varies. Monkey Matters operates in a similar fashion to a halfway house for the monkeys; the goal is to have them leave as soon as possible, once they are ready. All their rescues that are orphaned or ex-pets must be sent to reputable primate rehabilitation centers for troop-forming. Monkey Matters has been working with the most successful primate facility in South Africa for many years and they are thrilled to see their monkeys released back into the wild.
Riley has the rare and exciting opportunity to spend a lot of her time with the monkeys each day! She gets to help feed them, play with them, comfort them, and help in other ways with their rehabilitation. She has been able to capture her involvement with a treasure trove of photos and videos. Because the number of monkeys that they have at any given time and the care that the need can greatly vary, IVLA has been the perfect solution to her busy schedule. She can adjust her school schedule each day to accommodate the needs of the monkeys at any given time. The flexibility that IVLA offers has allowed her to participate in Monkey Matters as much as she wants!
When she is not hanging out with the monkeys, Riley spends her free time drawing and writing short stories. She has every intention of continuing to work with animals in the future. After high school, she plans on attending college in the United States to study either wildlife or zoology. Riley, we are so proud of the impact that you are making in the life of each monkey you take in and cannot wait to see how many other animals you help!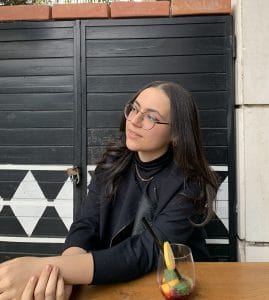 We are pleased to introduce you to one of our outstanding international students, Hadia El Hallou. Hadia currently lives in Morocco, Casablanca and has just graduated high school! She will be embarking on her journey to receiving her Bachelor's degree soon, and is already looking even further ahead in her future. Her dream is to attend either Columbia University or Yale University for law school once she completes her undergraduate schooling. Hadia's goal is to one day become an attorney. In practicing law, she hopes to be able to help both people and the world with her work in the legal field.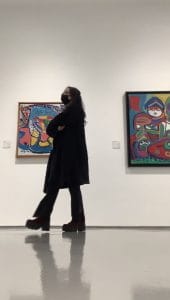 It's not surprising that she is looking to attend law school abroad, as one of her favorite things to do is travel and learn about new cultures. Two of her most-loved places to visit are New York and Canada. Some of her other hobbies include cooking, going to museums, reading, and photography. Hadia has developed her passion and talent for photography over the years. Her use of light and composition are remarkable and create stunning photos.
Being a student at IVLA for the last three years has given Hadia more free time to discover and learn new hobbies. She has also had the ability to focus on her mental and physical health while still prioritizing her academics. When reflecting on her time at IVLA, some of her biggest takeaways are her capacity to be responsible, independent, and her mastery of overall balance. She credits her amazing and understanding teachers with supporting and achieving these skills.
In her personal life, her role models are her mother and sister. She cannot imagine being the person she is today without their help, support, and love. Hadia believes "learning to be limitless, so it is never too late to appreciate yourself for who you are!" We couldn't agree more and look forward to seeing all that she accomplishes!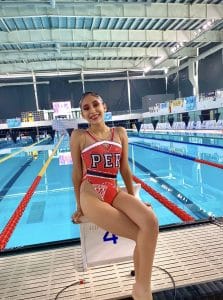 Meet Adriana Toulier, an IVLA student who lives in Lima, Peru, where she is part of the national artistic swimming team! She began artistic swimming when she was ten years old and has excelled at the sport ever since. Nearly seventeen and currently in 12th grade, she has represented Peru in international tournaments as both a junior and senior. Adriana plans to continue competing as an artistic swimmer once she graduates from high school. As an admirer of the United States artistic swimming team, she would like the experience of being on their team. Their innovative routines, motivation, and determination to get one of the last tickets to the Olympics are an inspiration.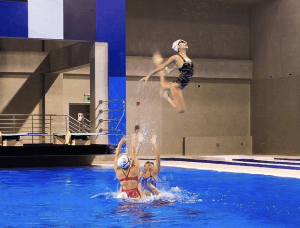 Competitions have provided Adriana with the opportunity to travel all over the world, including various countries across four continents: North America, Europe, Africa and South America. At a young age she had to learn how to balance training, competing and school while succeeding at all of them. While she attended traditional school, she had to take time off, sometimes missing classes for more than a month at a time or leaving school early every day, in order to be at practice. Since starting classes at IVLA in August of 2020, she hasn't had to make those sacrifices. With the benefit of being able to manage her own class schedule, she can better focus on her studies at her convenience, day or night, and work around her training.
Self-described as very persistent and someone who never gives up, we can't wait to see what else she achieves both in and out of the water!
Watch Adriana Toulier and her team compete!
Thor Sheppard is a unique overachiever unlike anyone we've met. His niche interests and dedication to excelling in these fields has shaped him to become an individual who cannot be easily put into a box. From scholastic pursuits such as learning robotics and programming for fun, to mastering the art of ballet and piano, Thor is a triple threat when you consider his impressive aptitude in athletics as well. His current training schedule consists of 450 hours annually to reach his goal of becoming an Olympic biathlete.
Read Transcript: