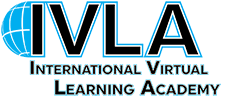 The International Virtual Learning Academy (IVLA) is a fully accredited California private school serving K-12 students around the world through a unique online independent study program.  IVLA meets and/or exceeds national content standards in all of its course work and offers high school diplomas, transcripts and transfer assistance.
IVLA is partnered with public schools, charter schools, private schools, home schools and church-based schools around the world to provide a state-of-the-art, high quality online K-12 education that can be used anywhere Internet access is available.
WHO CAN PARTNER WITH IVLA?
Sports academies – IVLA is a fully accredited, degree-granting online private school that is NCAA-authorized to offer NCAA approved courses.
Tutoring organizations and centers – IVLA's on-staff tutoring services provide full time access to our online tutoring program and certified tutors and teachers who provide an easy-to-use, cost-effective learning experience on a real-time basis. Tutoring centers wishing to augment their staffing capabilities can partner with IVLA to increase their ability to offer full-time high school-level tutoring services to a wider audience.
Public and charter schools – IVLA is partnered with a number of U.S. public and charter schools for the purposes of increasing the school's ability to augment teaching staff and realize budget savings using IVLA certified instructors; expanding course availability for summer school programming; and broadening and diversifying course offerings and teaching support in under-served and/or rural schools.
Private schools and Religion-based Schools – IVLA is partnered with a broad range of private and religion-based schools and organizations to offer increased flexibility to students, teachers and administrators, further facilitating their school's ability to meet the needs of each student's unique learning style.
Homeschools – Since 2004, IVLA has partnered with dozens of homeschools around the world to offer an online learning experience that includes diplomas, transcripts and school-to-school transfer assistance.
CALL US TODAY TO START BENEFITING FROM IVLA's PARTNERSHIP AGREEMENT 887-878-6001.