We are delighted to announce the recipient of our 2023 $1,000 college scholarship.
Please join us in congratulating our winner, Kayli Kojiro!
Thank you to everyone who submitted their essays for consideration. We received many inspiring and thoughtful entries this year from students around the world.
About IVLA's $1,000 College Scholarship
We are proud to be celebrating the fifth year and winner of our IVLA $1,000 college scholarship! It is with great esteem that we stand as a stepping stone for Kayli and all of our previous winners on their journey to success.
IVLA understands the importance of a college education for students! We also understand the expense to families in providing a college education for their children. Our goal is to provide an opportunity to make a college education more affordable to a student who desires to pursue a higher education. Our selection process is merit-based and determined by the creativity of a 500 word essay submitted through our website.
Meet Our Winner
My name is Kayli Kojiro. I am currently a senior at the Arts and Communication Magnet Academy in Oregon. I plan on majoring in biology with a minor in music at Willamette University. In the future, I hope to pursue a career in healthcare. I have spent much of my high school career focusing on volunteering and participating in diversity clubs and events, and hope to bring this background to further equity and just treatment for patients and staff in healthcare professions.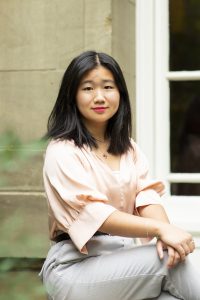 Read Kayli's Outstanding Essay
Ever since elementary school, I was fascinated with art and wanted to become an artist. In fifth grade, I made friends with two girls who were very passionate about drawing. As I started hanging out with them more frequently, I began to grow fond of art, as well; but I found that my skills weren't up to the same level that theirs were, and I wanted to become a better artist. Throughout elementary school, I spent nearly every recess filling any piece of paper that I could find with illustrations. I used the few hours of internet time I was allotted every week to study the drawings of artists that I admired. Eventually, I had a decent grasp of basic figures and shapes - and my fondness for art had developed into a dedicated passion.
Throughout middle school, I searched for resources on how to better establish my skills as an artist and practiced as often as I could. I signed up for every visual arts class offered at my school and invested hours of work and study into every piece I made. I began to feel confident with the work that I was putting out and had begun to venture outside of simple pen or graphite pencil drawings, and into acrylic painting, colored pencil, marker, and watercolor pieces.
In the eighth grade, I applied to a high school magnet academy that focused on the arts. I hoped that the more advanced techniques and rigorous classes would teach me things that would allow me to grow as an artist like never before. Since then, I've taken numerous art classes and participated in multiple art shows and competitions. I've learned about a variety of styles and mediums, as well as artists and art history -- all of which have influenced my knowledge and skills as an artist. Most importantly, my artistic abilities have been able to thrive in an environment where my ambitions were valued, and where myself and my peers are able to support each other in our artistic ventures.
Now, almost eight years later, I finally feel comfortable and confident with my art. The practice and education that I have received over the years has allowed me to find my personal sense of style, and to be able to use it in a way that balances both aesthetic, and authenticity. The experiences that I have gained throughout my time as an artist have allowed me to grow my confidence in the subject, as well as a person. I have learned about the value of sustained projects and continuous practice and work, and feel as though I am more thoroughly equipped to handle the initial insecurity and uncertainty that comes with learning a new skill. I am more certain of my ability to face challenges for an extended period of time without backing down and understand that repetition and practice is what it takes to continue to grow and to always continue improving.