We are thrilled to congratulate former IVLA student, Leylah Fernandez, on her impressive victories at the 2021 U.S. Open! Leylah defeated defending champion Naomi Osaka at the U.S. Open, 5-7, 7-6, 6-4 in the third round. She then went on to defeat former world No. 1, Angelique Kerber, 4-6, 7-6, 6-2 in the fourth round. This win propelled her to achieve her maiden Grand Slam quarterfinal on the eve of her 19th birthday. Talk about not one, but two huge wins!
Leylah made her professional debut in 2019 at the Gatineau Challenger where she won the singles tennis title. That same day, she won her first professional doubles title alongside teammate Rebecca Marino. Also in 2019, she became a Junior Grand Slam champion at the French Open. Her father, Jorge, has been her coach for many years, despite never having played tennis himself. She was dropped from a development program due to her small stature, and Jorge stepped in to help her flourish and grow into the incredible athlete that she is today. Together, they have raised her profile to be one of the most talented young athletes in the sport, and one to watch.
During her time at International Virtual Learning Academy, Leylah was ranked the No. 1 junior tennis player in the world. After graduating in 2020, she went on to compete in the 2020 Tokyo Olympics as part of Team Canada. We cannot wait to see what else this rising star accomplishes! We are cheering you on and are so proud of you, Leylah!
View this post on Instagram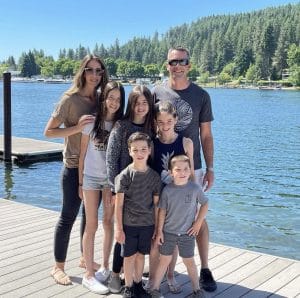 Starting at IVLA was a game changer for my family. When I got hired, I had recently had a baby who had some medical issues, and I needed to be home to care for her. This made it very difficult for me to return to my classroom teaching position. I found IVLA, and have felt at home ever since. IVLA was first starting up when I got hired. We had very few students, one curriculum option, and things were structured very differently. It certainly has grown over the years!! The number of states and countries continued to expand, only making my job more and more exciting. I love being able to learn about different countries, customs, and cultures around the world through the eyes of the families that I work with.
IVLA has provided opportunities to so many families, and it makes me proud to be a part of the IVLA community. I have had families throughout the years tell me how it has changed their lives. At their brick and mortar schools they didn't fit in, and IVLA has helped them soar to new heights, and that makes me incredibly happy to be a small part of their story. I truly enjoy being able to customize a plan and a program that suits each individual's needs. It is one of my favorite parts of IVLA, and I am passionate about finding the best fit for each of my students.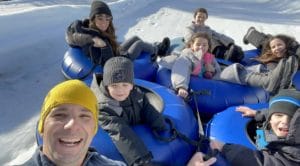 Another aspect of the online schooling community that I love is creating new programs, and pursuing new ideas that continue to help IVLA grow and become better every year. It has been really amazing to see how far the school has come over the years. I truly believe that is because the school is run, starting at the top, with leadership who really cares whole-heartedly about the families we serve. We are always striving to find ways to make the experience the best it can be for our students. I have been fortunate enough to be here at IVLA since the beginning, and have been able to watch the school evolve. We are always working on new ideas, and it is really exciting to be a part of such an innovative team.
I love being a part of IVLA because of the opportunity to help others, but I can't forget to mention how IVLA has helped me. It has allowed me the chance to continue working in education, while having the flexibility to be a stay at home mom to my own children. It is such a great balance because I get to still foster my love for teaching and helping students, but get to spend a lot of time with my family too.
IVLA is a great place to be, and I am excited to continue watching the school carry out its mission to help all students be the best they can be!
It is with immense pride that we congratulate the graduating class of 2021! This academic year was unlike any other. Despite the challenges and obstacles, every single one of our high school seniors persisted and succeeded. We are so proud of their accomplishments both in and outside of school. 
Our virtual graduation took place on Wednesday, June 16th for our faculty, students, and their families to celebrate this milestone together. Mrs. Heather Boyd, our history teacher and success coach, served at the Master of Ceremonies throughout the program. She dedicated the ceremony to the tenacious students, citing "In many places this year, the world stopped. But you, IVLA students, you kept going. We are so proud of you." IVLA Director, Brittany Knop, kicked things off and set the tone for this momentous occasion by sharing "Right now, I want you to bask in this moment, because this moment, right now, you are here. You have made it."
Guest Speaker and representative for the Class of 2021, Hadia El Hallou, shared her experience with IVLA for the last three academic years. In closing, she encouraged her fellow classmates to reflect on this moment with these wise words: "The time has come for us to pass our knowledge around. The time has come for us to engage in further growth. And the time has come for us to contribute to building the future." Following her outstanding words, each member of the Class of 2021 was featured in a touching slideshow which included quotes from the students and their family members.
Viewers were then treated to a surprise guest appearance by four-time Olympic gold medal winner in women's basketball, Lisa Leslie. Her advice rings true and is something that the students can carry with them through their lives: "Remember, tough times, they don't last always, but tough people do." Before closing, IVLA teachers shared their heartfelt messages of support and encouragement as they looked back on the last year and to the future of their students.
This was a graduation ceremony that we will remember for years to come! We cannot wait to see how each of our graduates grows and everything that they will accomplish as they embark on this new journey. Congratulations, IVLA Class of 2021!If you missed the graduation ceremony, please join us in watching and celebrating our graduates here: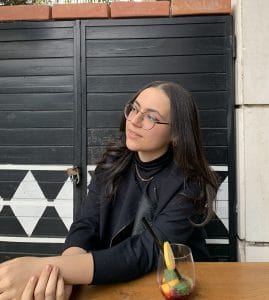 We are pleased to introduce you to one of our outstanding international students, Hadia El Hallou. Hadia currently lives in Morocco, Casablanca and has just graduated high school! She will be embarking on her journey to receiving her Bachelor's degree soon, and is already looking even further ahead in her future. Her dream is to attend either Columbia University or Yale University for law school once she completes her undergraduate schooling. Hadia's goal is to one day become an attorney. In practicing law, she hopes to be able to help both people and the world with her work in the legal field.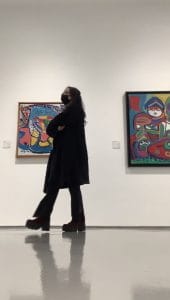 It's not surprising that she is looking to attend law school abroad, as one of her favorite things to do is travel and learn about new cultures. Two of her most-loved places to visit are New York and Canada. Some of her other hobbies include cooking, going to museums, reading, and photography. Hadia has developed her passion and talent for photography over the years. Her use of light and composition are remarkable and create stunning photos.
Being a student at IVLA for the last three years has given Hadia more free time to discover and learn new hobbies. She has also had the ability to focus on her mental and physical health while still prioritizing her academics. When reflecting on her time at IVLA, some of her biggest takeaways are her capacity to be responsible, independent, and her mastery of overall balance. She credits her amazing and understanding teachers with supporting and achieving these skills.
In her personal life, her role models are her mother and sister. She cannot imagine being the person she is today without their help, support, and love. Hadia believes "learning to be limitless, so it is never too late to appreciate yourself for who you are!" We couldn't agree more and look forward to seeing all that she accomplishes!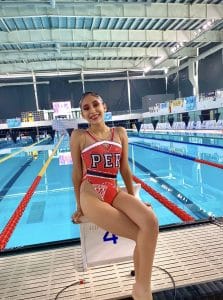 Meet Adriana Toulier, an IVLA student who lives in Lima, Peru, where she is part of the national artistic swimming team! She began artistic swimming when she was ten years old and has excelled at the sport ever since. Nearly seventeen and currently in 12th grade, she has represented Peru in international tournaments as both a junior and senior. Adriana plans to continue competing as an artistic swimmer once she graduates from high school. As an admirer of the United States artistic swimming team, she would like the experience of being on their team. Their innovative routines, motivation, and determination to get one of the last tickets to the Olympics are an inspiration.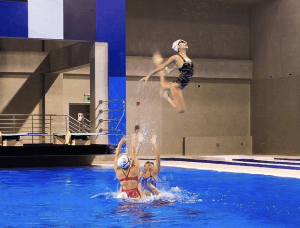 Competitions have provided Adriana with the opportunity to travel all over the world, including various countries across four continents: North America, Europe, Africa and South America. At a young age she had to learn how to balance training, competing and school while succeeding at all of them. While she attended traditional school, she had to take time off, sometimes missing classes for more than a month at a time or leaving school early every day, in order to be at practice. Since starting classes at IVLA in August of 2020, she hasn't had to make those sacrifices. With the benefit of being able to manage her own class schedule, she can better focus on her studies at her convenience, day or night, and work around her training.
Self-described as very persistent and someone who never gives up, we can't wait to see what else she achieves both in and out of the water!
Watch Adriana Toulier and her team compete!
With summer just around the corner, online summer school courses are the perfect opportunity for students to continue advancing their learning.  Our students can easily create a personalized summer school program that fits both their needs and their schedules.  The flexibility that our programs offer to students, and in turn, their families, make them the ideal courses to enroll in over the break.
This flexibility allows for plenty of time for fun and exciting activities throughout the season.  Since the courses can be taken any day of the week and any time of the day, families can spend part of each day exploring and creating memories together.  We've compiled a list of fun family summer activities to encourage a sense of adventure.  Plus, just because something is fun, doesn't mean that we can't learn while we're doing it.  Each of these activities can teach us something, whether it be in science, history, or math, there's always a lesson that can be applied.
Taking COVID-19 into consideration, we've broken down our activities into three different categories, based on the restrictions in your local area.  We hope that this inspires you and your family to make the most of the warm weather and your time together.  We would love to see and hear about any adventures your family plans to go on this summer!  Send us an email here: [email protected]com when you get back and we'll feature it on our website!  Adventure awaits below:
Destinations
Visit a museum
Visit an aquarium
Visit a zoo
Go miniature golfing
Visit a farm
Outdoors
Visit a beach, lake or river
Fly a kite
Take a walk or hike on a local trail
Visit a park
Go berry picking
At Home
Backyard camping or stargazing
Bake your favorite dessert or make homemade ice cream
Build an obstacle course
Make a scavenger hunt for your family
Plant a garden
We are thrilled to announce the recipient of our 2021 $1,000 college scholarship.
Please join us in congratulating our winner, John Vierra!
Thank you to everyone who submitted their essays for consideration. We received many outstanding and competitive entries this year from students around the globe.
Meet our Scholarship Winner:
John Vierra was born and raised in the beautiful state of Hawaii and has three awesome siblings! He is currently a senior at Iolani School in Honolulu, HI and will be furthering his education at Georgetown University in Washington D.C. He competes on his school's varsity golf team and absolutely loves the sport. John also often finds himself watching the news or debating issues with friends. He hopes to one day run for public office and is excited for the challenge that will bring.
John, from all of us at IVLA, we wish you the best of luck as you embark on this new and exciting journey on the other side of the country.  Congratulations, again!
Read his remarkable essay below:
When rumors started to circulate around campus about going online, no one really believed it. The virus seemed like something that would just fade away. These feelings of doubt dissolved the instant we checked our emails, only to find that what was once an idea would become reality. I remember how I had to completely reorganize my method of doing things academically. To be honest, it was the first time in a while that I had to truly critique the learning strategies I used. Many of my classmates shared the same sentiment, and many were surprised over how efficient online education can actually be. I believe that the most significant takeaway was how online learning can help students create, build, and sustain positive learning habits.
During a traditional in-person school day, there isn't much free individual time. There are breaks and free periods, but students are always surrounded by their peers. The bell schedule is always there to tell students when to get to class. When students were forced online, this whole concept changed. After moving to online learning, every minute outside of class was individual work time. Students had this freedom never before seen in a traditional classroom, but with it came responsibility. Students had to conduct an honest self evaluation of their habits. I believe that this is the silver lining in this situation. Students became exposed to new distractions and had to ask themselves some tough questions. Do I eat lunch early so I can work during the lunch period? Should I sleep in so that I'm fresh in the morning or should I get up early and get work done? Do I stay in one seat the whole day or should I work somewhere else when not in class? Students were put through the fire. Many parents had no clue how to help their children create online learning habits. After all, mass online learning is something unprecedented. Students learned a valuable skill. Online education requires planning and discipline. It requires building positive work habits that are not seen in a traditional classroom. Students quickly learned that they don't have their teachers or friends to make sure they are on time. Students had to build their own routines that worked for them, and they had to do it quickly.
Coronavirus was tough on everyone, but oftentimes moments of adversity show us things we never would have seen before. I believe it showed students that they can adapt; they can cultivate their own power habits. I think students all across the country, perhaps even the world, learned that online learning can be a positive asset. Coronavirus showed students the kinds of habits that are required and taught them to meticulously develop their own. Students were granted a major takeaway about online education, but there is no doubt that even after their academic careers they will take these habit-building skills into their future.
We are excited to announce our NHS Chapter's Spring Service Project 2021! We invite you to join us this season from March 10-April 21.
Our goal is to help our communities by donating items to organizations in need, such as Goodwill or The Salvation Army. These may include clothing, toys, and COVID-19 necessities. This is a project that students and their families and friends can participate in to make an even bigger impact!
For more information, and to see photos of our students making a difference, please visit us on Instagram at @IVLA_NHS.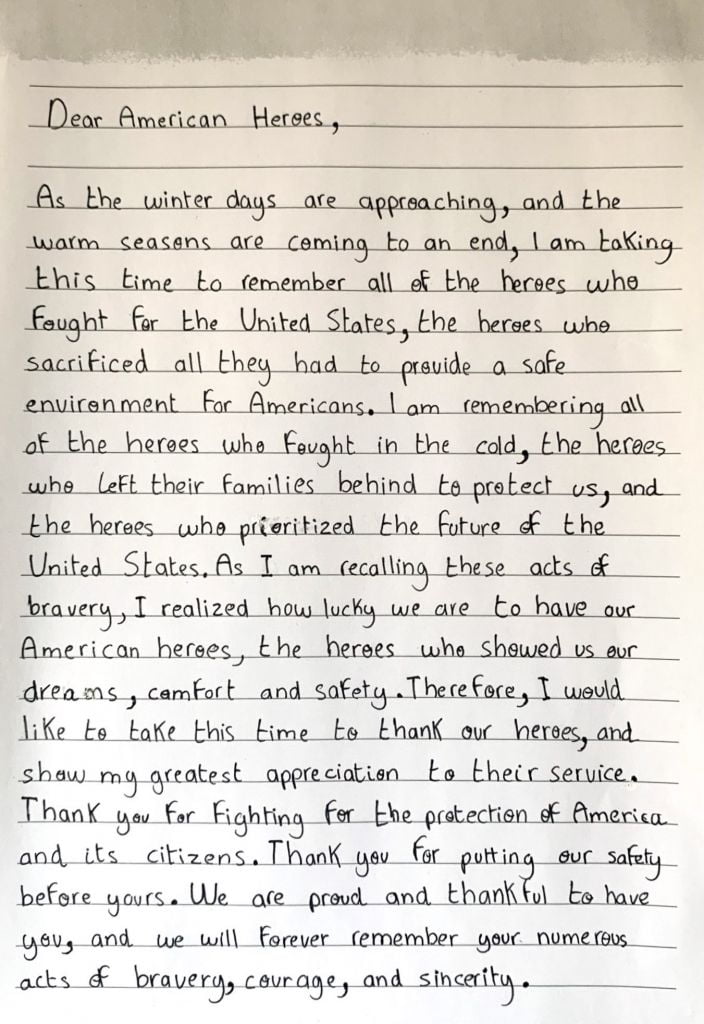 During the 2019-2020 school year, IVLA's National Honor Society members got the incredible opportunity to participate in service projects that make a positive impact on society. With many great choices for which organization the Members wanted to work with, we all came to the conclusion to work with the organization Cardz for Kidz, a nonprofit that allows anyone to write letters for hospitalized children. We were able to make many cards, poems, short stories, and paintings that were creative and fun and also put a smile on these kids' faces. IVLA's National Honor Society members and other IVLA students worked together during their monthly social hours to make memorable cards for these kids!
This year, the IVLA National Honor Society members have chosen another amazing nonprofit organization, known as Operation Gratitude! It is a fantastic organization that allows everyone to write inspiring and uplifting letters, short stories, and poems to Deployed Troops, Veterans, and First Responders. If you would really like to put a smile on these peoples' faces, you can also donate money for the holidays.
Operation Gratitude Mission Statement:
To forge strong bonds between Americans and their Military and First Responder Heroes through volunteer service projects, acts of gratitude, and meaningful engagements in communities nationwide.
How to get involved
There are many ways you and your family can get involved with this organization. You can make a digital letter, poem, short story, or whatever your creative mind desires. If you want to do something other than writing, you can donate money to support Operation Gratitude's establishment.
How to send a digital letter
To send a digital letter, short story, poems, or anything your literary mind desires, follow the link below. You can write a minimum of 350 characters and a maximum of 750 characters. Make sure your writing is both positive and inspiring and be sure to express your gratitude for their service. Operation Gratitude will print out your work and send it to the National Guard, Active Duty Military, Veterans, First Responders, and Healthcare Workers to show them that we are in support of our heroes during this global pandemic.
How to mail physical cards
Those that took part in the service project this spring know how to make captivating cards, the difference this fall is that they are for adults! You can get any good quality paper and write a nice motivational card for a Veteran, Active Military Personnel, First Responder, and so much more! Make sure to add some color and anything else you want. To send physical cards, follow the instructions below!