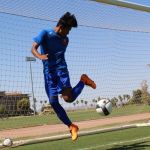 Louis Anthony Perry, born 10-17 2002, from Southern California.
Louis has been interested in soccer for nearly his entire life. He started playing recreational soccer at age 4, and was playing Club Soccer with So Cal Rush by age 8.
It was clear early on that Louis had a natural talent on the field, and was willing to put in the work to become one of the best in his age bracket.  By just 11 years old he played on Rush Semi-Pro and went on to the Pro Academy First Team Werder Bremen in Germany by 13.
In order to focus on honing his craft and continue to receive a top-tier education, it was clear Louis would need an education that was more flexible than the traditional brick and mortar solution. Aspiring to be a pro soccer player with a back up career as an anesthesiologist, he also needed a high school education that would set him up to succeed a prestigious university, like UCLA, if he chooses to pursue anesthesiology. It was these unique requirements that lead Louis to enroll with IVLA, in order to master his high school education in conjunction with a demanding schedule.
Louis is currently a starter on the U-17 regionnaliga team that plays in the second highest soccer level in Germany under the FIFA organization. He occasionally starts on the U-19 team depending on his teams game schedule, and he continues his studies with IVLA.