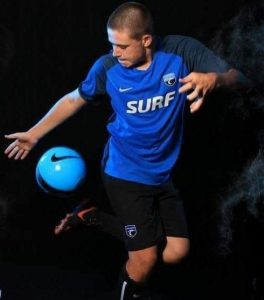 Meet Hunter Talak, who has been playing soccer since he was 4 years old and started playing Club Soccer at the age of 8.  Hunter's dedication, drive, and hard work earned him his first spot on the U.S. Soccer DA at the age of 12.
At 13, he played in the MIC soccer tournament in Spain, competing against teams such as Barcelona and Girona Fc. He is currently playing for San Diego Surf Soccer club on the U17's U.S. Soccer DA while also training with the U19's.
Its also worth mentioning that Hunter won a national juggling contest with a score of 8,247 juggles.
Hunter has chosen to be homeschooled since he was in the 6th grade, as homeschooling provides a more flexible education schedule that is a better fit with his training schedule and team travel. Hunter chose IVLA high school because of its great success stories and NCAA approved honor and AP classes.  Choosing IVLA has allowed Hunter to pursue his aspirations of becoming a pro soccer player and getting a college degree in business.