It is with immense pride that we congratulate the graduating class of 2021! This academic year was unlike any other. Despite the challenges and obstacles, every single one of our high school seniors persisted and succeeded. We are so proud of their accomplishments both in and outside of school. 
Our virtual graduation took place on Wednesday, June 16th for our faculty, students, and their families to celebrate this milestone together. Mrs. Heather Boyd, our history teacher and success coach, served at the Master of Ceremonies throughout the program. She dedicated the ceremony to the tenacious students, citing "In many places this year, the world stopped. But you, IVLA students, you kept going. We are so proud of you." IVLA Director, Brittany Knop, kicked things off and set the tone for this momentous occasion by sharing "Right now, I want you to bask in this moment, because this moment, right now, you are here. You have made it."
Guest Speaker and representative for the Class of 2021, Hadia El Hallou, shared her experience with IVLA for the last three academic years. In closing, she encouraged her fellow classmates to reflect on this moment with these wise words: "The time has come for us to pass our knowledge around. The time has come for us to engage in further growth. And the time has come for us to contribute to building the future." Following her outstanding words, each member of the Class of 2021 was featured in a touching slideshow which included quotes from the students and their family members.
Viewers were then treated to a surprise guest appearance by four-time Olympic gold medal winner in women's basketball, Lisa Leslie. Her advice rings true and is something that the students can carry with them through their lives: "Remember, tough times, they don't last always, but tough people do." Before closing, IVLA teachers shared their heartfelt messages of support and encouragement as they looked back on the last year and to the future of their students.
This was a graduation ceremony that we will remember for years to come! We cannot wait to see how each of our graduates grows and everything that they will accomplish as they embark on this new journey. Congratulations, IVLA Class of 2021!If you missed the graduation ceremony, please join us in watching and celebrating our graduates here: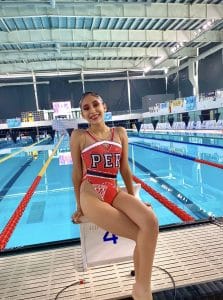 Meet Adriana Toulier, an IVLA student who lives in Lima, Peru, where she is part of the national artistic swimming team! She began artistic swimming when she was ten years old and has excelled at the sport ever since. Nearly seventeen and currently in 12th grade, she has represented Peru in international tournaments as both a junior and senior. Adriana plans to continue competing as an artistic swimmer once she graduates from high school. As an admirer of the United States artistic swimming team, she would like the experience of being on their team. Their innovative routines, motivation, and determination to get one of the last tickets to the Olympics are an inspiration.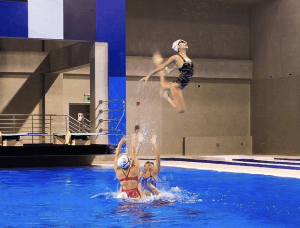 Competitions have provided Adriana with the opportunity to travel all over the world, including various countries across four continents: North America, Europe, Africa and South America. At a young age she had to learn how to balance training, competing and school while succeeding at all of them. While she attended traditional school, she had to take time off, sometimes missing classes for more than a month at a time or leaving school early every day, in order to be at practice. Since starting classes at IVLA in August of 2020, she hasn't had to make those sacrifices. With the benefit of being able to manage her own class schedule, she can better focus on her studies at her convenience, day or night, and work around her training.
Self-described as very persistent and someone who never gives up, we can't wait to see what else she achieves both in and out of the water!
Watch Adriana Toulier and her team compete!
Table of Contents:
Introduction
The number of students attending school online has greatly increased over the years particularly this last year due to the COVID-19 pandemic.  Students are adapting to learning online in either synchronous or asynchronous classes. Parents looking for an online program, often search for programs that offer synchronous courses; however, research shows students prefer asynchronous learning and have better performance outcomes in asynchronous environments.  
Synchronous Learning (Live Classes) vs.  Asynchronous Learning
To define asynchronous learning, it's important to understand what synchronous learning is first. 
What is Synchronous Learning?
Synchronous learning is a style of learning very similar to brick-and-mortar schools, except that you aren't in the same room as other students.

Synchronous learning refers to learning that occurs when the instructor and student are in the same place at the same time. This can be in a physical location such as a classroom or online in a live meeting room..  The defining feature of this method is the real-time exchange of information between instructor and students online or virtually. This can happen either in-person or on the internet through video conferencing software where teachers and students can engage remotely in real time. 
OK, that makes sense! But how is it any different from distance learning?
Most commonly, you'll hear people using the terms distance education or distance learning when talking about taking classes online. Synchronous learning is not a type of distance learning, but can be done via distance learning, and shares many similarities with a regular classroom. You still have a teacher, you still have to be up on time to get to your lessons, and you'll still have classmates participating in a class at the exact same time as you.
What is Asynchronous Learning?
Asynchronous learning happens on your schedule - no early alarm required.
One of the most convenient perks of distance learning is the ability to learn "when it fits my schedule." Traditional courses provide set times and locations where students are expected to be present.
Asynchronous learning is student-centered learning that can occur at different times and places. The learning material is prepared ahead of time by the teacher so the students can learn at their own time, place, and pace. The students and the teacher do not have to be in the same place at the same time. Asynchronous learning has many benefits including flexibility, working at your own pace, personalized learning, and fewer distractions. Asynchronous methods are often used in online courses because they allow students to interact with others in their class but don't require them to be present simultaneously.
The benefits of asynchronous learning:
Age does not matter -

You can find classes for any grade level, including traditional K-12 schooling.

Location does not matter -

As long as you have an internet connection, you're good to go!

Traveling isn't required -

No more rushed mornings to get to school on time, getting stuck in traffic, or added travel costs! 
Flexibility -

Students can log in and work on their courses at the time that is best for them.  Some students learn better in the mornings and some in the evenings. Many athletes and performers require this flexibility as it is the only way that they are able to attend all their classes and ultimately succeed.

Fewer distractions -

Students are not distracted by what others are doing in their classes and can focus on the concepts they need to learn.
Students learn to be more independent -

Students are more independent because the learning is more independent. They tend to be more independent thinkers, since they have to conduct research on their own as they wait to receive feedback or move on in the lesson alone.
No need to compete for class time and resources -

The learning material is prepared ahead of time by the teacher so the students can learn at their own time, place, and pace.
Building self-confidence through control and empowerment -

If the material is challenging, they can take their time going through it. They can revert to previous learning materials to review concepts they may be struggling to understand without the worry of holding up their peers or the embarrassment of being the only one who does not understand
Opportunities to learn better organization and time management skills -

Students are able to set their own schedule each day, create a routine that works for them, and stick to it. They are able to recognize when they are at their best for learning, and plan the rest of their day around their classes. They are then set up to participate in any extracurricular activities or other time commitments.
They can progress at the pace that is best for them

-

 

Students who know the material can work through the lessons quickly and move on to content they have yet to master.

Students can accelerate or slow down at their own pace and other students in the classroom won't hold them back

or move too far forward.
Are You Alone?
Just because you are learning alone, does not mean that you are alone! Asynchronous learning grants students the opportunity to be independent without being alone in their education. In some instances, it provides students with a complete online community to be a part of. For example, International Virtual Learning Academy equips its student with the following support:
By offering this extensive and thorough support system, asynchronous learning students are invited to be active parts of their online community and provided with the tools to succeed.
Why 'Async' Learning is a Great Option for Military and Other Traveling Families
One of the difficulties children of travelling parents face is that their education is often disrupted at inopportune times. One state or country may teach different curricula at different times or at varying paces. So, if a child moves from one school to another, they may miss entire chunks of a curriculum or subjects that their other peers have already mastered. This can lower self-esteem and create learned helplessness, or a fixed mindset, both of which have a negative impact on achievement, health outcomes, and general well-being. Oftentimes children will blame themselves for not understanding, thinking it's their fault they don't understand, which, in turn, can cause negative interactions at home. 
With asynchronous learning, students follow the same continuous curriculum at a pace that fits their unique needs while ensuring there are no gaps in their education. They are empowered in their own pursuit of knowledge which can increase motivation and positive self-image. Asynchronous learning provides traveling students with an excellent alternative that essentially solves all the issues that they have experienced with traditional learning. 
Synchronous and Asynchronous Learning in a Few Words
The main distinction between the two is that synchronous learning is live learning, either online or in-person, in real-time. 
Asynchronous learning is an online learning environment that incorporates teachers and teaching resources but is a better option because it is accomplished without the use of live lectures. The benefits previously covered above outline the additional reasons why asynchronous learning without the use of live classes is a better option.
The Future of Education - Is it Asynchronous Learning?
We've tackled the synchronous vs. asynchronous comparison. Now let's take a look at why asynchronous learning is a more powerful form of education and the most effective option for the future of online learning.
Will Asynchronous Learning Ever Be the Future of the Traditional, Classroom-Based Learning Experience?
At the exponential rate technology progresses, it's very possible our grandchildren and great-grandchildren may all attend school virtually.
Asynchronous learning is just the beginning, the first step, of moving in that direction.
Whether or not asynchronous learning takes over the world of education, we believe it has many benefits for students who find accessing education in traditional environments limiting.
Do you think we're heading towards a virtual future? Let us know in the comments below!
The Science Behind Asynchronous Learning
Starting School Later is Actually Better!
We all know how awful it feels to go without a full night's sleep, and how it can affect our productivity the next day.  However, as children head into adolescence, lack of rest can become a more serious issue.
Young people typically go to bed later and wake up later by an average of two hours. This is a natural occurrence in an individual's stage of adolescent growth although it's often assumed to be a trait of laziness. Comparatively, a student going to school before 9:00am would be like an adult starting work before 7:00am.  On top of this, many schools will offer pre-school sports training sessions, all of which adds to what had been dubbed a 'sleep deprivation epidemic' (Hagenauer, 2009).
Several studies have shown that starting school later in the day has huge benefits for learners. These studies show that attendance, grades, and sleep are all improved across students in K-12 when schools start later in the day. Again, it's important to realize that this isn't simply a preference for students, but rather a proven neuroscientific fact that the typical circadian rhythms of a growing child  occur later than those in a fully-developed adult brain.
Everydayhealth.com explains more about the benefits of delaying school start times.
Asynchronous learning acknowledges and takes into consideration this important health pillar and allows and encourages students to get a full night's sleep.
Synchronous vs. Asynchronous - Why Asynchronous Wins
If none of the above resonated with you, perhaps better grades might pique your interest? Asynchronous online learning is, according to science, the clear winner. Fancy a bit of dry bedtime reading? Consider perusing 'Educational Outcomes of Synchronous and Asynchronous High School Students: A Quantitative Causal-Comparative Study of Online Algebra' (Berry, 2017).
Just in case you decided against indulging in that bit of light reading, the study found that "synchronous students had significantly lower end-of-course grades and standardized test scores than asynchronous students."
Wrapping Up
With the advent of new digital technologies, novel methods of learning are continuously developed and implemented across diverse platforms. As we found out, asynchronous learning could be an answer to some of the education problems in our schools today with its many demonstrable benefits. 
If you're looking for more information about this topic, we encourage you to review the resources provided at the end of this article to learn more about both synchronous and asynchronous teaching strategies. 
Learn more about our asynchronous K-12 online curriculum options.
References:
1 Berry, Sharon. Educational Outcomes of Synchronous and Asynchronous High School Students: A Quantitative Causal-Comparative Study of Online Algebra 1. 2017. Northeastern University, PhD dissertation. https://repository.library.northeastern.edu/files/neu:cj82qm059/fulltext.pdf
Hagenauer, M.H., et al. Adolescent changes in the homeostatic and circadian regulation of sleep. Developmental Neuroscience. 2009;31(4):276-284.
11-year-old Ell shares the story about why her and her family decided on online school and how they came to choose IVLA as their provider for an online education.
Do IVLA teachers have experience teaching online or are they new to it like everyone else?
Online schooling may be new to many teachers, but it's not new to us! We've been providing online education since 2007. The proof of our teaching staff's excellency is evident in our student successes stories. We invite you to also take a look at a list of some of the recent colleges and universities to accept IVLA students.
How does IVLA support students as they transition to online learning?
One of the characteristics that makes IVLA unique from other online schools is our support and personalization. In addition to standard tech support and teacher support, IVLA also offers academic advisement, an assigned success coach, as well as live tutoring sessions!
We offer full support for you and your family every step of the way. Even outside of business hours, our staff members strive to answer any of your family's questions within just 12 hours, where other online schools strive for 48 hours. You will always speak with a live person who works full time for IVLA, we will never pass you off to a call center. In fact, you'll probably get to know our support staff by name!
As COVID-19 has turned our world upside down, homeschooling has been thrust into the global spotlight.
According to a recent Forbes article, its estimated that 300 million children worldwide are now being homeschooled. Covid-19's impact on the education industry has been so severe that the United Nations recently stated that "the global scale and speed of current educational disruption is unparalleled and, if prolonged, could threaten the right to education." Whether you're a parent or a student, there's no denying that the coronavirus pandemic has changed our lives in ways that were unimaginable just a few months ago.
What is Homeschooling and How Long Has it Been Around?
Wikipedia defines homeschooling as "the education of children at home or a variety of places other than school. Homeschooling (home education) is usually conducted by a parent, tutor, or an online teacher." Note that "homeschooling" is the term generally used in North America while "home education" is commonly used in the United Kingdom and Europe. In this article, we're referring to any form of home education (whether an online school or traditional homeschool) as "homeschooling."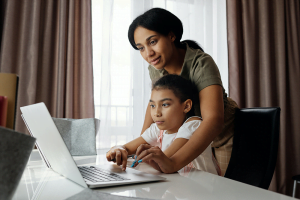 Homeschooling gained popularity in the 1970s as part of a broader movement toward educational reform. The homeschooling movement was championed by John Holt, who was nicknamed the "father of homeschooling." In 1976, Mr. Holt published "Instead of Education; Ways to Help People Do Things Better", which called for a "Children's Underground Railroad" to help children escape compulsory schooling.
Mr. Holt would go on to say the following about homeschooling: "I want to make it clear that I don't see homeschooling as some kind of answer to badness of schools. I think that the home is the proper base for the exploration of the world which we call learning or education. Home would be the best base no matter how good the schools were."
Quick Facts about Homeschool
For those new to the homeschooling scene, here are some of the basics of homeschooling your children:
Homeschooling is legal in all 50 US states and many foreign countries.
Parents are not required to have an education degree and/or teaching credentials.
Laws about homeschool vary by state, so you should always check your state and local laws and regulations before you start homeschooling your children.
There is no "standard" way to homeschool. Homeschooling offers tremendous flexibility to both the parent and child.
Homeschooling has gone digital. While traditional printed content is still used by some homeschoolers, a growing segment of homeschooling families now use online curriculum.
Schooling from home does not have to be expensive. Basic costs include the learning materials/curriculum, pens, pencils, notebooks, etc.
Some states require standardized testing as part of a child's homeschool education program. Again, be sure to check your state and local homeschooling laws and regulations.
Many states/regions have extensive homeschool support and social networks. These resources include homeschool co-ops, support groups for parents, sporting events, and various student clubs and groups.
Will Homeschooling Change the Way We Learn?
According to a recent article posted on the World Economic Forum ("WEF") website, many education experts believe that the use of homeschooling due to the COVID-19 pandemic will forever change how children are taught.
The WEF article states that an estimated one billion children worldwide have had their education disrupted due to the coronavirus pandemic. Thankfully, digital technologies have allowed many of these children to continue learning while traditional schools are shut down. Teachers and students have been using technologies such as Zoom and Skype to transition the learning process out of the classroom and into the home. France has gone so far as to create "Ma classe à la maison" (my classroom at home), which is a virtual classroom that can be accessed anytime and from any location via a laptop or smartphone. Meanwhile, private sector companies in Japan have been offering free online courses that can be accessed through a government digital platform.
Tracey Burns, of the Organisation for Economic Co-operation and Development (OECD), says "It is particularly inspiring to see entirely new ways of working emerging, ones that go beyond simply replacing physical schools with digital analogues." Andreas Schleicher, Director of Education and Skills at the OECD, sees the current COVID-19 crisis as an opportunity to rethink how we organize education. Mr. Schleicher believes that schools and teachers should no longer be seen as "knowledge delivery systems" and that they should be encouraged to take ownership of not just what they teach but how they go about teaching it.
According to results from the OECD's global teaching survey TALIS, teachers from around the world believe that a shortage of digital technology in the classroom has been hindering learning. Furthermore, the survey shows that barely half of all teachers were able to let their students use computers for projects or classwork.
Summing it all up, it appears that the coronavirus pandemic has forced students, parents, and teachers worldwide to see how homeschooling can forever change the world of education.
As both mental health advocates and people who strongly believes that this world needs more personal happiness, we at IVLA have been intrigued by the effect, if any, that happiness has on student achievement. After spending some time in research, we've learned that there is indeed a correlation between happiness and increased student learning.
Wisdom From a Renowned "Happiness Guru"
Shawn Achor is a renowned happiness guru who created the Orange Frog program to teach his philosophy of happiness to students. Mr. Achor believes that happiness and a positive attitude promote:
A healthier and more engaging learning environment
Enhanced student development
Greater student success
The Orange Program is a comprehensive effort to promote happiness at all levels of the student experience. The program involves participation from parents, teachers, school administrators, and even custodians and bus drivers. The goal is to create a happier environment by reinforcing positive habits.
According to an article by David Levine on the U.S New & World Report website, the Orange Program was implemented in Schaumburg, Illinois by the Schaumburg Township Elementary District 54. Within three (3) years of its implementation, District 54 went from the 73rd percentile of academic achievement in Illinois to the 95th percentile. The results were so impressive that District 54 superintendent Andrew DuRoss stated, "I think it has turned out to be best decision I have made as superintendent of schools".
Teaching Happiness
The concept of "teaching happiness" has been the subject of significant debate by everyone involved in the education process. There are some who believe that it is a legitimate and effective practice, and there are others who aren't quite so believing. With or without any supporting research/data, our belief is that it is a concept worth implementing. If any educational technique/concept/practice has the potential to positively affect a student, then we fully support its implementation and use.
Teaching happiness is based on simple concepts such as:
Smiling
A simple smile can promote a more positive and relaxing student environment. This is considered such a powerful, and simple, technique that experts encourage "fake" smiling if necessary.
Positivity
Getting not just students but people in general to acknowledge and appreciate what is good in their lives is essential. Creating a "happiness journal" whereby you write down the good in your life is a great way to reinforce the concept of positivity.
Social and Emotional Learning (SEL)
This is a technique focused on educating students as to what makes them happy. The goal is to create more awareness and empowerment within the student by focusing on core concepts such as compassion, courage, appreciation, and forgiveness.
Exercise
Getting active and moving our bodies increases happiness. By incorporating basic exercise activities into the student's educational program, both the physical and mental well-being of the student will be improved.
Music
Cranking up some vibrant music is another simple technique that has proven to have a positive impact on students. Not only can playing music promote a more relaxing and positive atmosphere, its also been shown to decrease blood pressure and lower anxiety.
Happiness, positivity, and overall good mental health have been proven to enhance a student's educational performance, while depression and negativity significantly decrease it. Given this correlation, we believe common sense dictates that any and all techniques and practices predicated on improving happiness and overall mental health should be integrated into every student's educational program.
One of the best parts of working with an international school is getting to know students and families who lead vastly different and unique lives. From dedicated actors and athletes to world travelers or students who simply want to explore the options the world has to offer, International Virtual Learning Academy (IVLA) offers students the opportunity to create personal learning programs that fit their schedule and are accessible anytime from anywhere. Every family's "normal" is different, and at IVLA we're fortunate enough to get a glimpse into the unique lives our students lead.
One such example has been getting to know Zienab Rouissiya, an IVLA high school sophomore and member of IVLA's National Honor Society chapter. If you keep up with IVLA's blog, newsletter, or social media, you may remember Zienab from leading the Cards for Kidz initiative that encouraged families to create greeting cards for children in the hospital. Zienab is kind, hardworking, and an impressive student. In addition, Zienab lives a life many would find incredibly fascinating! When she was 12 years old, her family moved from Philadelphia to Morocco, where she has lived for the past 4 years.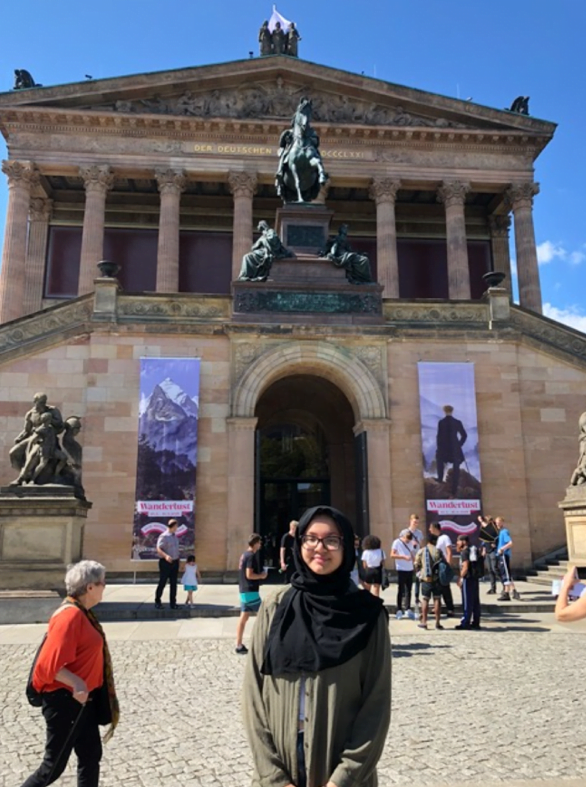 We had the pleasure of interviewing Zienab virtually where she shared her candid, honest thoughts about her life in Morocco. While we find her life fascinating, to Zienab it's her everyday normal, which she describes as "quite boring." This just goes to show that no matter where you live in the world, a teenager can find your interests boring.
As an individual who can look back on their teenage years, however, listening to Zienab's stories from the perspective of a 16-year-old girl living in a foreign land felt cathartic. I think we can all look back at our teenage years and agree (comment below if you disagree) that it was one of the most emotional, exciting, and frightening times in life. With so many possibilities for our future, every decision we made felt crucial. If you were a teenager prior to the 2000's, school itself may have even felt like a restriction – dictating where you needed to be or what you needed to do each hour of the day. But with today's technology, options for online high school open even more possibilities for high school students, just like Zienab.
For Zienab, this means a typical school day is working at her own pace and prioritizing her self-care (a skill I was not yet aware of at Zienab's age!) She wakes up around 8 AM and aims to finish her schoolwork around 2 or 3 PM. She explained how she believes everyone deserves time for themselves and having work-life balance is important.
When she breaks for lunch, she eats with her family including her dad, stepmother, and little brother. There was a bit of sadness felt in her description of lunch time. Although they are physically together, she feels her family is each focused on their own devices and not present in conversation. Being an American living in Morocco, she explains that news is a constant in her life. According to Zienab, her Father always has the news on TV, "whether it be the American news (American CNN) or the Moroccan News (Medi1 TV)," Zienab goes on to say, "either way, it's always news. From the moment we wake up to the moment we go to bed, the news is always on." Zienab noted that this piece of information may seem off topic in her interview, but that it was worth mentioning because it feels like a big part of her everyday life.
On the contrary, we found this bit of information not only an interesting insight into her life, but also a testament to her and her family's thirst for knowledge and sense of connectedness with the world. "I feel like anything that is going on in the world, I know about it. Whether it be an earthquake in India, flooding in Indonesia, or the markets down in the US." It is clear in both her schoolwork and our interview that Zienab's knowledge of world events gives her both an interesting and well-rounded perspective of the world – with a wealth of knowledge that might seem to belong to someone beyond her years.
In the afternoon when her schoolwork is complete for the day, her family will either "chill together" at home or do normal family stuff like grocery shopping or going to the beach off the Casablanca coastline… you know, the normal boring stuff!
Whenever Zienab mentions her hometown of Casablanca, as an American, I can't help but conjure up romantic and dramatic black and white scenes featuring Humphrey Bogart. A quick Google search of Zienab's local beach, Ain Diab, brings up imagery of fashionable, vibrant, and "posh" cafes and beach clubs. For Zienab however, this is where she spends her time seemingly pining for her old life back in Philadelphia. She misses the restaurant her dad used to run, Figs, where she could get her favorite American dish – a chicken sandwich. She dreams of attending Yale, after finishing her high school education, and becoming a journalist. Until then, she's content with working hard on her schoolwork and extracurriculars like the National Honors Society.
Zienab spent 7th and 8th grade attending school in Casablanca but decided to try something new for her high school career. "I decided to give online school a chance and it is the best decision I have made for myself and my mental health." Attending an online school gave her not only more flexibility but also offered a pathway that aligned with her goals of attending Yale someday. When her father tasked her with selecting the school she would like to attend, Zienab realized that in order to accomplish her goals she needed to find an institution that was accredited in the United States, had advanced placement and honors courses, and offered extracurricular activities that would help build her college resume. When her research was completed, she chose IVLA.
The move to Morocco hasn't been what Zienab expected. During her first two years she began to miss her home in Pennsylvania. Even though she started her time in Morocco at an American school, she quickly learned that being of Moroccan heritage did not make her feel like a native Moroccan. The children at her school spoke the same language, were also American, and taking the same classes she would have taken back home, but it still didn't feel like home. Most of the middle schoolers she met had spent a significant time in Morocco and spoke French and Arabic fluently. They weren't familiar with some of her favorite books and movies from home, or her favorite chicken sandwich from Figs. She began to feel homesick, missing simple pleasures like block parties and ice cream trucks. Zienab loves Morocco but she misses home.
IVLA thanks Zienab and her family for sharing their fascinating (in our view) story about life in Morocco. We at IVLA can't help but be fascinated by how living in a foreign country can be so different while also being so similar. IVLA wishes Zienab and her family tremendous happiness, and if Philadelphia is where Zienab yearns to be, then we hope she finds her way back to the city that she so clearly loves.
What is Continuous Learning?
Continuous learning, or continuity of learning, is the continuation of education in the event of a prolonged school closure or student absence. Continued learning is considered a critical component of school emergency management, as it provides students and families access to teaching and learning resources during the interruption of normal schooling due to an emergency/crisis. This is a crucial topic plaguing many families around the world due to COVID-19, with schools being forced to shutdown to help slow the spread of the virus. This has caused families and students to scramble to find suitable schooling alternatives. While some of the shuttered schools have provided access to online learning, many have not.
Key elements of continuous learning are:
Ensuring Accessibility. During a crisis such as the COVID-19 pandemic, having access to both teachers and learning materials is critical. Students can't learn if they don't have access to learning resources.
Customization for Different Age Groups. Learning materials and the related instructional platform must be designed in a manner that is properly aligned with different learning/skill levels. The instructional platform and learning materials that work for elementary students won't work for students in middle school and high school.
Training. The success of any program requires proper training for not only the school faculty and staff, but also for the students and families using the program.
State Policies. Each state has established rules and guidelines regarding online learning. Therefore, its critical that students and families understand their state's policies to ensure that they are consistent with their online learning program.
Understanding Your Options for Continuous Learning
Priority number one is understanding the schooling options that are available to you. In a situation like the coronavirus, many parents have turned to online schools to help their student finish the school year, refresh with a summer school course, or rethink utilizing online school as a long-term solution. We find that many students and families think that they can only start with an online school at the beginning of a school year or school semester. However, that's not the case!
International Virtual Learning Academy allows students to start a personalized online learning program that picks up from where they left off when their school was forced to shut down. Through the use of assessments and prescriptive courses, along with a comprehensive review of the student's records, IVLA can accurately gauge what coursework the student needs to complete while also understanding what coursework the student will not have to go back and redo. In short, IVLA can provide each student with a personalized online learning program that allows each individual student to complete their unfinished coursework in a both an effective and efficient manner.
Some families are also hesitant to trust their student's education with an online school. We believe that some skepticism is healthy, especially when it comes to something as significant as your child's education. It's important that families do their research to ensure the online schools they're interested in are accredited and can show a track record of student success. For families interested in IVLA, we always recommend that they attend one of our virtual open houses where we walk families through our programs and answer any questions, live. Many of our families can attest to having a clearer understanding of IVLA, and online school in general, after having attended an open house.
About International Virtual Learning Academy
IVLA  is a private, fully accredited and NCAA approved K-12 online school that's here to help students and families with their schooling during these challenging times.
Since its inception in 2007, IVLA has been committed to providing personalized online learning programs that satisfy all of the above criteria. IVLA's online learning programs are tailored to meet the needs of each student and are accessible anytime from any location. IVLA's certified teachers have been thoroughly trained on how to provide an online learning experience that is safe, accommodating, and effective.
How to Get Started with IVLA
After learning more about IVLA by attending an open house, trying a demo, or simply speaking with us by phone, getting started is easy. The following is a summary of IVLA's simple enrollment process:
Complete our application - Whether you're ready now or at a future date, you should complete the application process now so your student can begin working with an IVLA advisor to complete the enrollment process.
Gather your documents - As part of the application process, you will need to gather your student's report cards and transcripts. For your convenience, students in grades 1-12 can download IVLA's record request form here: download our Records Request form here.
Choose your curriculum - IVLA recognizes that students learn differently, therefore, we offer six (6) different online curriculum options for you to choose from.
Select your courses - An IVLA advisor will work with you to build a personalized education program that meets both your specific needs and the mandated requirements for your student's grade level.
IVLA is ready to assist students and families with their continued learning programs during this incredibly challenging time, so please contact us anytime at (877) 878-6001 or [email protected]. The IVLA Team wishes everyone the very best during this unprecedented time.