One of the best parts of working with an international school is getting to know students and families who lead vastly different and unique lives. From dedicated actors and athletes to world travelers or students who simply want to explore the options the world has to offer, International Virtual Learning Academy (IVLA) offers students the opportunity to create personal learning programs that fit their schedule and are accessible anytime from anywhere. Every family's "normal" is different, and at IVLA we're fortunate enough to get a glimpse into the unique lives our students lead.
One such example has been getting to know Zienab Rouissiya, an IVLA high school sophomore and member of IVLA's National Honor Society chapter. If you keep up with IVLA's blog, newsletter, or social media, you may remember Zienab from leading the Cards for Kidz initiative that encouraged families to create greeting cards for children in the hospital. Zienab is kind, hardworking, and an impressive student. In addition, Zienab lives a life many would find incredibly fascinating! When she was 12 years old, her family moved from Philadelphia to Morocco, where she has lived for the past 4 years.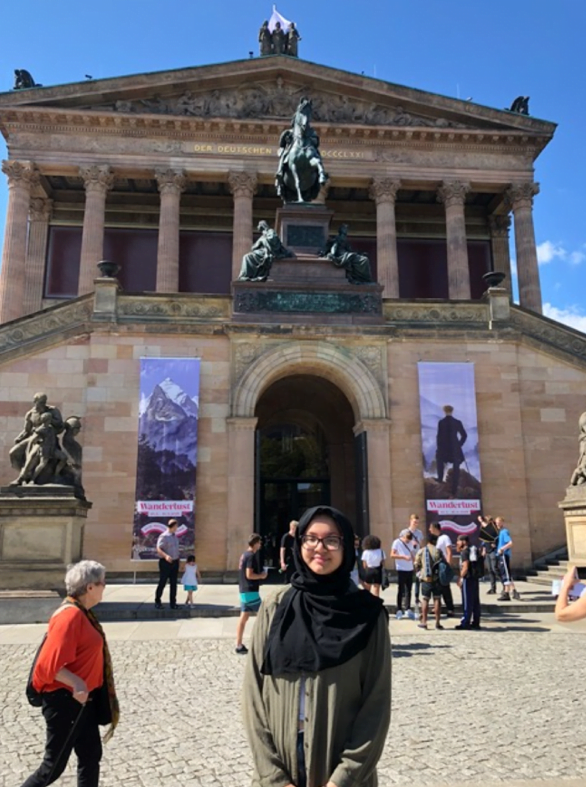 We had the pleasure of interviewing Zienab virtually where she shared her candid, honest thoughts about her life in Morocco. While we find her life fascinating, to Zienab it's her everyday normal, which she describes as "quite boring." This just goes to show that no matter where you live in the world, a teenager can find your interests boring.
As an individual who can look back on their teenage years, however, listening to Zienab's stories from the perspective of a 16-year-old girl living in a foreign land felt cathartic. I think we can all look back at our teenage years and agree (comment below if you disagree) that it was one of the most emotional, exciting, and frightening times in life. With so many possibilities for our future, every decision we made felt crucial. If you were a teenager prior to the 2000's, school itself may have even felt like a restriction – dictating where you needed to be or what you needed to do each hour of the day. But with today's technology, options for online high school open even more possibilities for high school students, just like Zienab.
For Zienab, this means a typical school day is working at her own pace and prioritizing her self-care (a skill I was not yet aware of at Zienab's age!) She wakes up around 8 AM and aims to finish her schoolwork around 2 or 3 PM. She explained how she believes everyone deserves time for themselves and having work-life balance is important.
When she breaks for lunch, she eats with her family including her dad, stepmother, and little brother. There was a bit of sadness felt in her description of lunch time. Although they are physically together, she feels her family is each focused on their own devices and not present in conversation. Being an American living in Morocco, she explains that news is a constant in her life. According to Zienab, her Father always has the news on TV, "whether it be the American news (American CNN) or the Moroccan News (Medi1 TV)," Zienab goes on to say, "either way, it's always news. From the moment we wake up to the moment we go to bed, the news is always on." Zienab noted that this piece of information may seem off topic in her interview, but that it was worth mentioning because it feels like a big part of her everyday life.
On the contrary, we found this bit of information not only an interesting insight into her life, but also a testament to her and her family's thirst for knowledge and sense of connectedness with the world. "I feel like anything that is going on in the world, I know about it. Whether it be an earthquake in India, flooding in Indonesia, or the markets down in the US." It is clear in both her schoolwork and our interview that Zienab's knowledge of world events gives her both an interesting and well-rounded perspective of the world – with a wealth of knowledge that might seem to belong to someone beyond her years.
In the afternoon when her schoolwork is complete for the day, her family will either "chill together" at home or do normal family stuff like grocery shopping or going to the beach off the Casablanca coastline… you know, the normal boring stuff!
Whenever Zienab mentions her hometown of Casablanca, as an American, I can't help but conjure up romantic and dramatic black and white scenes featuring Humphrey Bogart. A quick Google search of Zienab's local beach, Ain Diab, brings up imagery of fashionable, vibrant, and "posh" cafes and beach clubs. For Zienab however, this is where she spends her time seemingly pining for her old life back in Philadelphia. She misses the restaurant her dad used to run, Figs, where she could get her favorite American dish – a chicken sandwich. She dreams of attending Yale, after finishing her high school education, and becoming a journalist. Until then, she's content with working hard on her schoolwork and extracurriculars like the National Honors Society.
Zienab spent 7th and 8th grade attending school in Casablanca but decided to try something new for her high school career. "I decided to give online school a chance and it is the best decision I have made for myself and my mental health." Attending an online school gave her not only more flexibility but also offered a pathway that aligned with her goals of attending Yale someday. When her father tasked her with selecting the school she would like to attend, Zienab realized that in order to accomplish her goals she needed to find an institution that was accredited in the United States, had advanced placement and honors courses, and offered extracurricular activities that would help build her college resume. When her research was completed, she chose IVLA.
The move to Morocco hasn't been what Zienab expected. During her first two years she began to miss her home in Pennsylvania. Even though she started her time in Morocco at an American school, she quickly learned that being of Moroccan heritage did not make her feel like a native Moroccan. The children at her school spoke the same language, were also American, and taking the same classes she would have taken back home, but it still didn't feel like home. Most of the middle schoolers she met had spent a significant time in Morocco and spoke French and Arabic fluently. They weren't familiar with some of her favorite books and movies from home, or her favorite chicken sandwich from Figs. She began to feel homesick, missing simple pleasures like block parties and ice cream trucks. Zienab loves Morocco but she misses home.
IVLA thanks Zienab and her family for sharing their fascinating (in our view) story about life in Morocco. We at IVLA can't help but be fascinated by how living in a foreign country can be so different while also being so similar. IVLA wishes Zienab and her family tremendous happiness, and if Philadelphia is where Zienab yearns to be, then we hope she finds her way back to the city that she so clearly loves.